Donald Trump Wants Teachers to Strap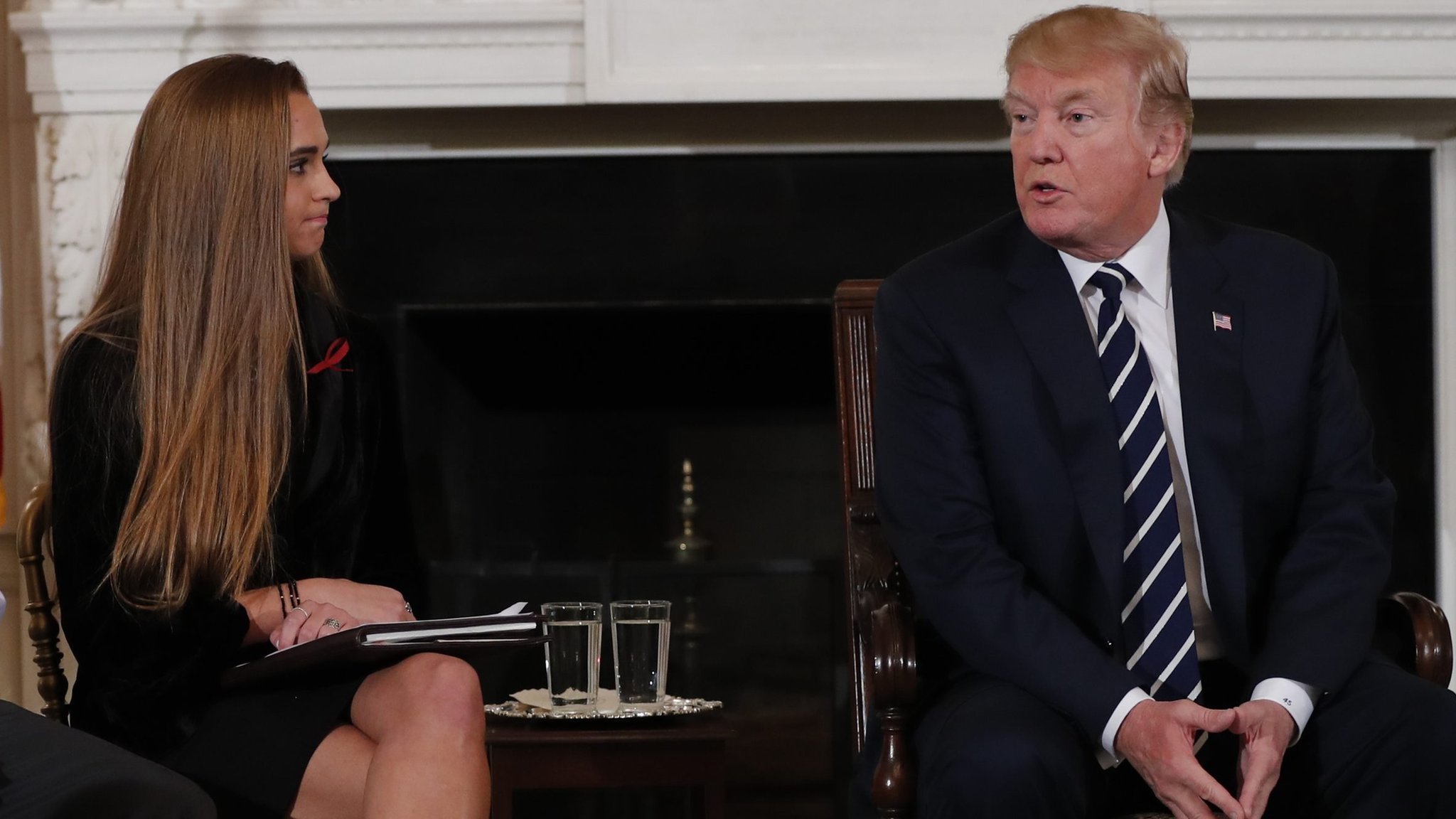 US President Donald Trump has expressed support for arming teachers and ending gun-free zones near schools at a White House event on gun violence.
An armed teacher could end an attack "very quickly", he said.
Mr. Trump floated the proposals as survivors of last week's Florida school shooting implored him to make sure it never happens again.
The Republican president also backed calls for improved background checks for gun buyers.
Other survivors meanwhile lobbied Florida lawmakers on gun control.
"We'll be very strong on background checks, very strong emphasis on the mental health of somebody," Mr. Trump told the students from Marjory Stoneman Douglas High School at Wednesday's televised event at the White House
"It's not going to be talk like it's been in the past," he added. "It's been going on too long, too many instances, we're going to get it done."
The US president also endorsed proposals that have long been backed by the National Rifle Association (NRA), a powerful gun lobby group.
He pledged to look "very strongly" at calls for teachers and other staff to be armed with guns.
"If you had a teacher who was adept at firearms," he said, "they could very well end the attack very quickly." Mr. Trump acknowledged that plans to arm teachers were controversial.
He also criticised gun-free zones in schools.
"A gun-free zone to a maniac – because they're all cowards – is, 'let's go in, and attack'," said the president.
Mr. Trump listened to emotional pleas for change from about 40 students, teachers, and families during the session in the executive mansion's state dining room.
Andrew Pollack, whose daughter, Meadow, was among the 17 killed in Valentine's Day attack in Parkland – the second-deadliest shooting at a US public school – vented his anger.
"We're here because my daughter has no voice," said Mr. Pollack.
"She was murdered last week and she was taken from us – shot nine times on the third floor. We, as a country, failed our children."
"I'm pissed!" he added.
Hundreds of teenagers from the Washington DC suburbs rallied outside the White House before Mr. Trump's meeting.
Meanwhile, survivors of the shooting poured into the Florida state capital, Tallahassee, to demand lawmakers restrict sales of assault rifles.
Other students across the US – including in Chicago, Illinois; Pittsburgh, Pennsylvania; and Phoenix, Arizona – walked out of classes in solidarity.
Mr. Trump's listening session came a day after he directed his administration to take steps to ban gun "bump stocks".
The accessories – which enable a rifle to shoot hundreds of rounds a minute – were used by a gunman who killed 58 concert-goers in Las Vegas last October.
That was the deadliest attack by a lone gunman in US history.
The NRA opposes a total ban on bump stocks but has said it is open to restrictions on the devices.