Florida School Shooting survivors rally for stricter gun controls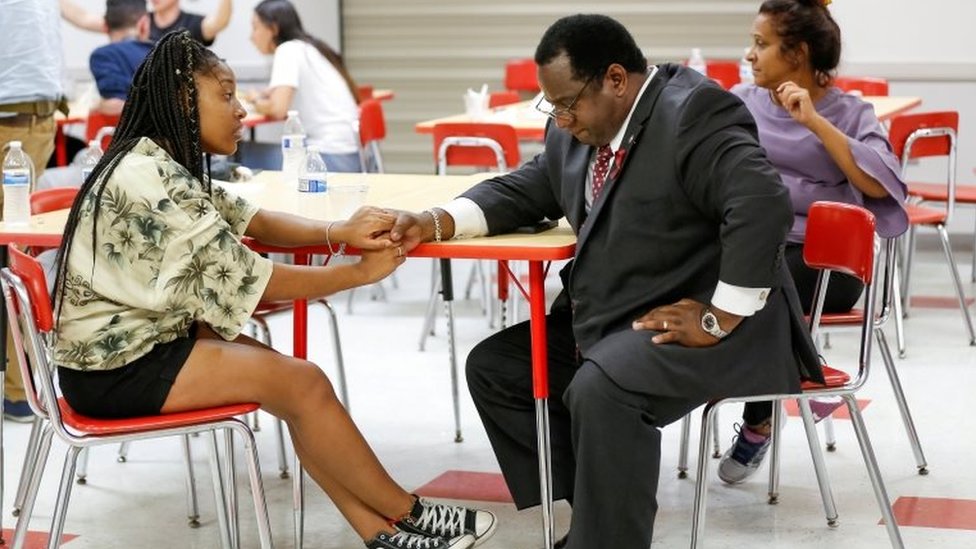 Survivors of a Florida school shooting that left 17 people dead are marching in the state capital to press lawmakers to take more action on gun control.
Students are due to meet legislators after marching to the statehouse.
It is the first organized protest of the youth-led anti-gun movement that has swept the US since the attack.
About 100 students arrived in Tallahassee hours before the state legislature rejected a ban on assault rifles like the one used in the attack.
Under pressure to act, President Donald Trump on Tuesday backed a move to ban devices that can enable rifles to shoot hundreds of rounds a minute. This bump-stock accessory was used by a gunman in Las Vegas to kill 58 concert-goers last year.
What is the #NeverAgain movement?
It was born out of the massacre at Marjory Stoneman Douglas High School in Parkland one week ago, the second-deadliest school shooting in US history.
For the first time, articulate student survivors of the attack have broken into the much-debated topic of gun violence and gun controls, says the BBC's Barbara Plett in Tallahassee.
Wednesday's demonstration is their first organized protest aimed at putting pressure on legislators to ban assault-style rifles, similar to the semi-automatic AR-15 model used by the gunman, 19-year-old Nikolas Cruz.
Several students took center stage at an emotionally charged rally in Fort Lauderdale on Saturday, with high school student Emma Gonzalez attacking President Trump and other politicians for accepting political donations from the National Rifle Association (NRA), a powerful gun-rights lobby group.
The movement has drawn support from celebrities such as George and Amal Clooney, Steven Spielberg and Oprah Winfrey, who have donated hundreds of thousands of dollars to help fund a planned march on gun control in Washington on 24 March.
'We won't back down'
By Paul Blake, BBC News, South Florida
In all around 100 students, on three buses, made the journey of more than seven hours to the state capital.
For many of these students, it is their first trip to the capitol building in Tallahassee to lobby their lawmakers over a national issue.
There is an excitement among the students, who sense that they may be on the cusp of starting a national movement.
"We're traveling to our state capital to make sure that none of these people that we grew up with – that we've known our whole lives – die in vain," Julia Salomone, 18, said confidently.
So how do the students expect the politicians to receive them? "Honestly, I feel like they're gonna be overwhelmed by us because they're going to see in our faces our determination, our commitment to this, because this is all we're fighting for right now," 16-year-old Rain Valladares said. "They're gonna look us in the face and see that we're not gonna back down."
Are legislators doing anything about gun controls?
Gun ownership is protected by the Second Amendment of the US Constitution and under federal law, people must be at least 21 years old to purchase a handgun but they only need to be 18 to buy a rifle or a shotgun.
But federal law only states the minimum standards for gun control and individual states can use their own laws to regulate the use of firearms by providing further restrictions or making them more lenient.
On Tuesday, Florida's Republican-controlled state house of representatives rejected a Democratic motion to ban assault weapons and large-capacity magazines. It is considering a package of more limited gun restrictions, but it only has until 9 March to act before its current session ends.
During this session, the state legislature has already approved two bills that would provide broader access to guns. But there are signs of change – since last week's attack state Senator Bill Galvano has called for the age limit for purchasing assault rifles to be raised from 18 to 21.
The White House also signaled on Tuesday it was considering raising the minimum age for people buying AR-15-type assault rifles – the current age limit in most states is 18.
The students on Wednesday will demand that Florida legislators use the remaining three weeks to revise state mental health and gun laws.
Is Trump addressing the concerns?
The US president on Tuesday instructed the justice department to propose a law to make bump stock accessories, which allow semi-automatic rifles to fire as rapidly as machine guns, illegal.
The device was not seen in the Florida shooting, but it was used by Stephen Paddock, a 64-year-old gambler, who rained bullets on the crowd at an outdoor country music festival on the Las Vegas Strip in October.
It can be bought for as little as $100 without the need for a criminal background check.
More than 500 people were also injured in that attack, the worst ever mass shooting in the US by a lone gunman.
Bipartisan efforts to introduce a ban on such devices in the wake of the Las Vegas massacre have stalled.
Mr. Trump also said over the weekend he was supportive of a bipartisan bill that seeks to improve the checks in place before someone can buy a gun.
Failures in the FBI's background check system were exposed by the Florida shooting, committed by a man with a history of mental health issues.
Previous efforts to introduce gun control measures in the wake of mass shootings in recent years have gone nowhere in the US Congress.