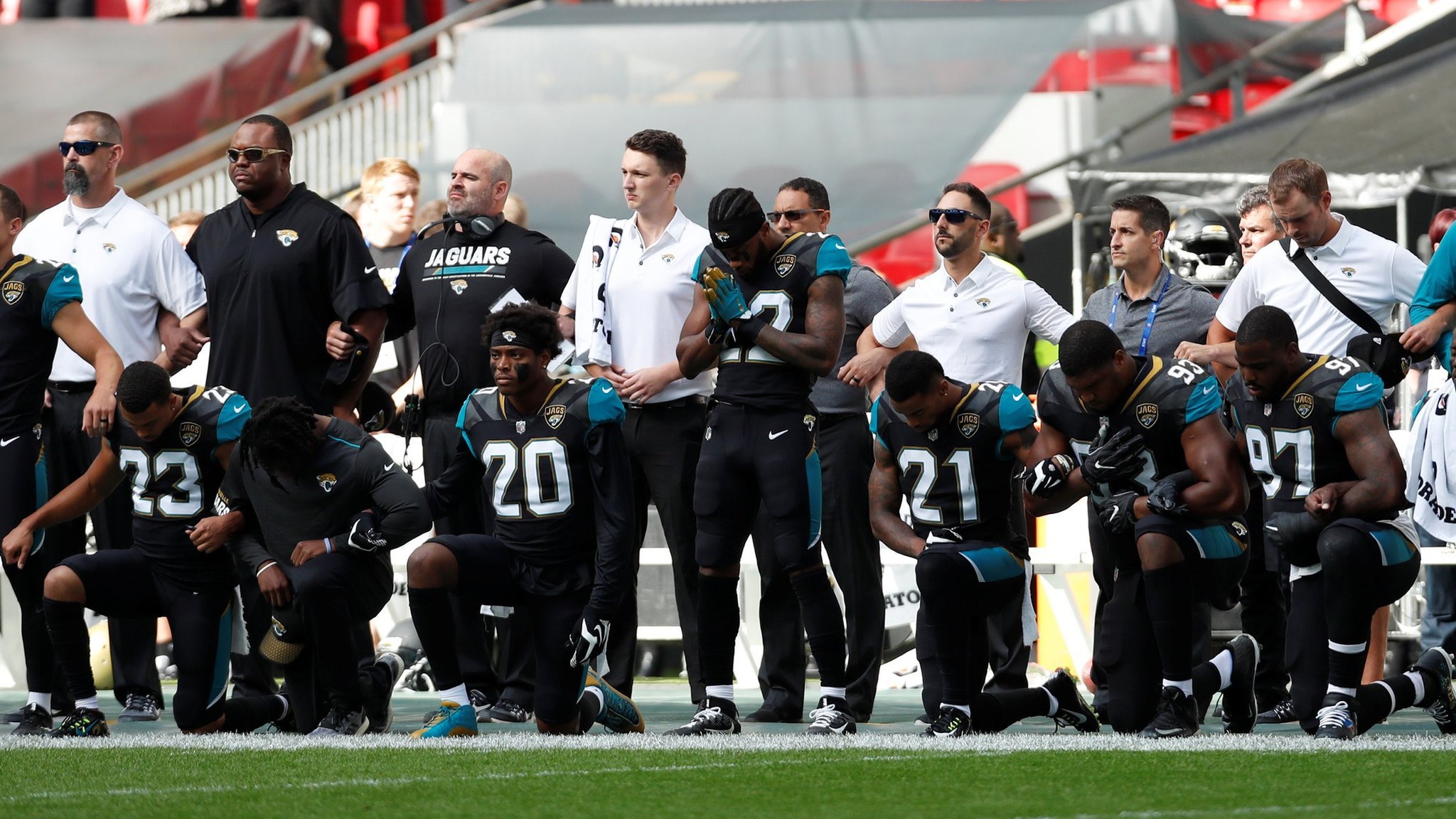 Donald Trump Needs more than Just Jesus, he just can't seem to help himself and I know there are plenty of Saints Praying for Him!!
US President Donald Trump has urged a boycott of the National Football League (NFL) to force teams to punish players who protest during the national anthem.
In a growing row with the sports world, Mr Trump repeated that such players should be fired or suspended.
The comments have been condemned as "offensive" and "divisive".
At the start of the first game since Mr Trump's remarks, many players and staff from the Jacksonville Jaguars and the Baltimore Ravens knelt in London.
Jacksonville Jaguars' owner Shahid Khan – who donated $1m (£740,000) to the Trump campaign – locked his arms with players in an unusual scene, as owners rarely join players on the pitch.
Mr Trump's remarks can be seen as an attempt to appeal to core supporters, BBC North America reporter Anthony Zurcher says.
This is a fight Mr Trump relishes, our reporter adds, because he knows his base will flock to him when he questions the patriotism of wealthy athletes. It may also be a way of deflecting attention after a difficult week, in which:
His latest effort to repeal Obama-era healthcare legislation suffered a potentially fatal blow after Senator John McCain said he could not vote for it
His candidate in Alabama's Republican Senate runoff on Tuesday, Senator Luther Strange, lagged behind former State Supreme Court justice Roy Moore, polls suggested
Warning: This article contains language some readers may find offensive.
What did Mr Trump say?
In two tweets early on Sunday just hours before a series of NFL games, Mr Trump repeated his call for clubs to punish players who protested during the US anthem.
He was referring to a string of controversial protests started by player Colin Kaepernick last year when he sat or kneeled during the anthem to highlight the treatment of black Americans.
To a crowd of cheering supporters on Friday, Mr Trump asked: "Wouldn't you love to see one of these NFL owners, when somebody disrespects our flag, to say, 'Get that son of a bitch off the field right now… he is fired'?"
#TakeAKnee v #BoycottNFL: How fans see it
US anthem and flag: Etiquette and law
What has the reaction been?
Mr Trump's remarks on Friday have been widely criticised, with NFL commissioner Roger Goodell saying in a statement that "divisive comments like these demonstrate an unfortunate lack of respect".
President Trump, however, doubled down on his comments in a tweet, saying: "Tell them to stand!".
The NFL Players' Association president Eric Winston said Mr Trump's comments were "a slap in the face to the civil rights heroes of the past and present".
In other reaction:
But there has been no comment from many teams, including New York Jets owner Woody Johnson, a wealthy businessman and Trump campaign donor who was appointed as his ambassador to the UK.
Earlier on Sunday, Treasury Secretary Steven Mnuchin defended Mr Trump's comments on ABC's This Week programme, saying: "I think the president can use whatever language he wants to use."
On Saturday night, the Oakland Athletics' Bruce Maxwell became the first Major League Baseball player to kneel in protest during the anthem.
His father is in the military and he was born on an army base, US media report. He told a reporter he was "kneeling for people that don't have a voice".
Rally for controversial NFL player
Stars: Trump is 'offensive and divisive'
Isn't there an NBA row too?
Mr Trump is also facing criticism after withdrawing an invitation to the White House to basketball champions the Golden State Warriors after one player, Stephen Curry, said he did not want to attend.
Curry – NBA's top performer in 2015 – said he wanted to show that he and other players did not stand for "the things that he's said and the things that he hasn't said in the right times".
"Going to the White House is considered a great honor for a championship team," Mr Trump tweeted afterwards. "Stephen Curry is hesitating, therefore invitation is withdrawn!"
The Golden State Warriors said the team had clearly understood "that we are not invited" to the White House but would visit Washington DC on its own "to celebrate equality, diversity, and inclusion".
You may also like...
Facebook