Texas Church Shooting 27 Killed
The attack happened at the First Baptist Church in Sutherland Springs in Wilson County.
Police official Albert Gamez Jr confirmed the number of fatalities to CBS News.
The gunman, who is reported to have been killed in the aftermath, entered the church and opened fire at around 11:30 local time (17:30 GMT).
"The details are kind of sketchy but what I know right now, what they're telling me, like 27 deceased and over 20, 25 injured," Mr Gamez Jr said.
About 50 people usually attend the service, locals said.
"They're talking about the shooter is dead also," he added.
The gunman died after a brief car chase into nearby Guadalupe County slightly to the north, a Sherriff's Office deputy from that county told CNN.
But it is not clear if he was killed by police or killed himself, the spokesman said.
One witness, Carrie Matula, told NBC News: "We heard semi-automatic gunfire… we're only about 50 yards away from this church."
"This is a very small community, so everyone was very curious as to what was going on."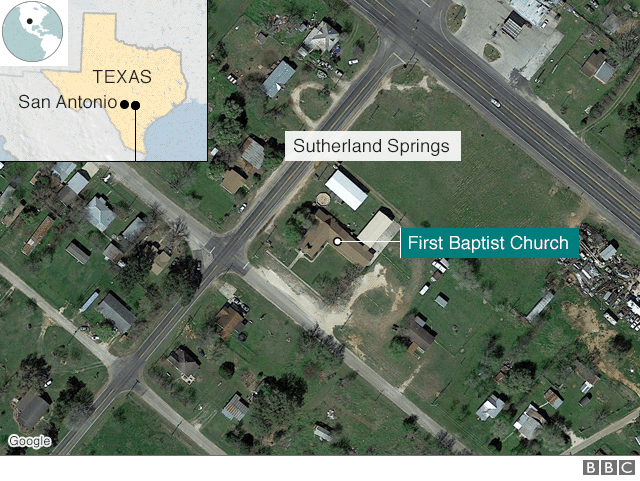 Sutherland Springs is a small town with just a few hundred residents, which lies about 50km (30 miles) southeast of the city of San Antonio.
The San Antonio FBI branch said its agents had been deployed, and there was no indication of the gunman's motive.
The FBI also said that while only one shooter was reported, it was looking into other possibilities.
Photos and video from the scene showed the area taped off by local law enforcement.
A number of helicopters have arrived to transport the wounded, KSAT 12 reporter Max Massey said.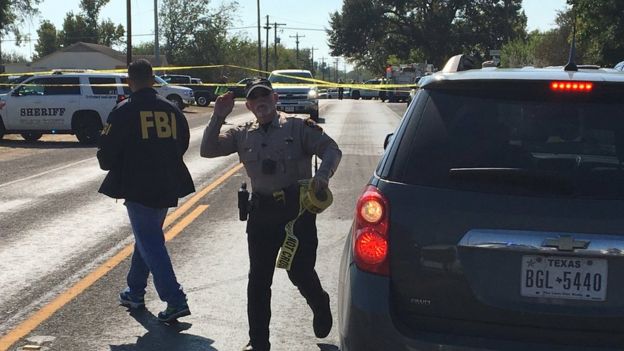 Texas governor Greg Abbott said: "Our prayers are with all who were harmed by this evil act. Our thanks to law enforcement for their response."
He said more details would be released by the Texas Department of Public Safety shortly.
President Trump, on a tour of Asia, tweeted: "May God be with the people of Sutherland Springs, Texas. The FBI and law enforcement are on the scene. I am monitoring the situation from Japan."