The 78-year-old actor and comedian was released on $1 million in bail after being arraigned on Wednesday (December 30) in Elkins Park, Pennsylvania.
"The charge by the Montgomery County District Attorney's office came as no surprise," lawyer Monique Pressley told Us Weekly. "Filed 12 years after the alleged incident and coming on the heels of a hotly contested election for this county's DA during which this case was made the focal point. Make no mistake, we intend to mount a vigorous defense against this unjustified charge and we expect that Mr. Cosby will be exonerated by a court of law."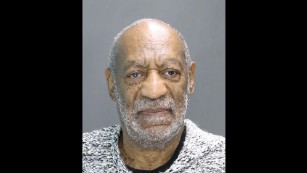 The TV legend is accused of drugging and sexually assaulting former Temple University employee Andrea Constand when she visited his suburban Philadelphia home in 2004. A probable cause affidavit filed by investigators this week alleges that Cosby "sought to incapacitate" Constand by giving her a mix of pills and wine that sent her slipping in and out of consciousness and left her unable to consent to sexual activity.
Constand was the first person to publicly allege sexual assault by Cosby. The charges filed Wednesday are the first criminal charges levied against him since the allegations arose. Cosby has steadfastly denied wrongdoing.
In 2005, prosecutors declined to seek charges against Cosby in the case, citing insufficient evidence.
Then
Officials reopened the criminal investigation into Cosby in Montgomery County after new evidence came to light, Steele said.
That evidence, Steele said, came from court documents related to a civil suit that Constand filed against Cosby after prosecutors declined to seek charges against the comedian.
Constand settled the civil case against Cosby in 2006.
This past July, nine years after the civil case was settled, a judge decided to unseal Cosby's deposition in that case in response to a motion by the media.
In it, Cosby admits he had sexual relationships with at least five women outside his marriage, gave prescription sedatives to women he wanted to have sex with and tried to hide affairs from his wife.
Thus opening the window again for Ms. Constand.
Now yall know that I like to keep it real here so I have a couple of questions and it has nothing to do with Bill Cosby being a celebrity its just about how justice many times descriminate against black men, I don't care how much money or fame they have.  
What I can't understand is how can Ms. Constand come after Mr. Cobsy again  after settling her case with him?
Isn't it strange that after Bill Cosby came clean a few weeks ago, now all of sudden they are filing charges against him?
How is it the Constand case (that she settled in her right state of mind)  could be unsealed?
If she was drugged so bad how could  her memory of what actually happened be so vivid?
Why would she just agree to take drugs?
Why did she wait so long to report it?
Isn't it  a little strange that this  latest lawsuit came as Bill Cosby filed counterclaims against seven women who are currently suing him for defamation, arguing that the alleged victims are making false claims of sexual misconduct for financial gain and the statute of limitations for the Constand case was just weeks away?
Don't you think that it is a little strange that this case just won't go away????
Sounds like to me that there is something more going on here,  while the world has seen how black men are treated by police officers and now we are witnessing firsthand from the Bill Cosy case that Justice is reversed many times against men of color.
"I think there will be many stumbling blocks for the D.A.'s office in attempting to prosecute this very old disproven allegation," Monique Pressley, a lawyer for Mr. Cosby, said in a phone interview Thursday. "This charge is not about effectuating justice. This charge against Mr. Cosby is about fulfilling a campaign pledge."
In 2005, Bruce Castor, then the district attorney in Montgomery County, declined to bring criminal charges based on Ms. Constand's accusations, saying he did not believe there was sufficient evidence. Mr. Castor ran to recapture his position in November but was defeated by Kevin Steele, a first assistant district attorney who made his opponent's decision not to prosecute Mr. Cosby an issue. Once elected, Mr. Steele had a limited amount of time to file charges, because the 12-year statute of limitations expires in January.
Here is the details concerning his arrest:
FOR IMMEDIATE RELEASE: DECEMBER 30, 2015
COSBY CHARGED WITH AGGRAVATED INDECENT ASSAULT
Montgomery County District Attorney Risa Vetri Ferman and Cheltenham Township Police Chief John J. Norris announce the filing of criminal charges against William H. Cosby stemming from the sexual assault of a victim that occurred on an evening in early 2004 at Cosby's residence in Cheltenham Township, Montgomery County. Cosby is charged with Aggravated Indecent Assault, which is a Felony of the Second Degree.
The charges filed today are a result of new information that came to light beginning in July 2015. After determining the statute of limitations regarding the potential criminal offense had not yet expired, an investigation was reopened. The statute of limitation for aggravated indecent assault is twelve years from the incident.
"A prosecutor's job is to follow the evidence wherever it leads and whenever it comes to light," said First Assistant District Attorney Kevin R. Steele, in announcing the charges. "Upon examination of all of the evidence, today we are able to seek justice on behalf of Mr. Cosby's victim."
According to the affidavit, the victim was a guest of Cosby at his home located at 8210 New Second Street in Cheltenham on the night of the incident. In the course of the evening, Cosby provided the victim with wine and three blue pills. At Cosby's urging, the victim ingested wine and water along with the blue pills. Shortly thereafter, the victim became incapacitated, and Cosby led her to a couch. The victim lay down on the couch, and Cosby positioned himself behind her. Cosby then fondled the victim's breasts, put his hands inside her pants, and penetrated her vagina with his fingers. During the assault, Cosby also put her hand on his erect penis. The victim did not consent to any of these acts and reported that she was unable to move or speak and felt "frozen" and "paralyzed."
Within a few months of the incident, the victim moved back to her native Canada where she resided with her mother. In January 2005, the victim disclosed to her mother for the first time what Cosby had done to her. The victim and her mother reported the incident to local Canadian authorities who, in turn, notified authorities in Pennsylvania. On January 22, 2005 the victim gave a statement to the police indicating what had happened to her, including the vaginal penetration by Cosby. The initial investigation into this incident was reviewed by the former District Attorney and resulted in the February 17, 2005, announcement that no criminal charges were forthcoming.
On July 6, 2015, U.S. District Judge Eduardo Robreno, pursuant to a motion from the Associated Press, unsealed certain legal filings that contained references to a deposition by Cosby in a civil case. Judge Robreno released materials in part because Cosby has a diminished privacy interest and this diminished interest is outweighed by the public interest in gaining access to his deposition testimony. The release of these documents in July and the subsequent release of Cosby's deposition caused the Montgomery County District Attorney's Office to reopen the case. After reviewing the initial investigation, re-interviewing some witnesses, examining other evidence in the civil case and information from other alleged victims, it was determined that the evidence warranted the filing of criminal charges against Cosby.
Cosby is expected to be arraigned later this afternoon before Magisterial District Judge Elizabeth McHugh. Judge McHugh's Court is located at Station Mews, 7804 Montgomery Avenue in Elkins Park.
Anyone with information regarding similar incidents with Cosby is asked to contact the Montgomery County Detective Bureau at 610-278-3368.
Approved for release:
Kevin R. Steele
CRIMINAL CHARGES, AND ANY DISCUSSION THEREOF, ARE MERELY ALLEGATIONS AND ALL DEFENDANTS ARE PRESUMED INNOCENT UNTIL AND UNLESS PROVEN GUILTY.
You may also like...
Facebook